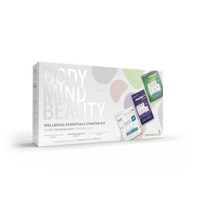 Wellbeing Essentials Starter Kit
Revive Active's Starter Kit contains three powerful super supplements: Revive Active, Mastermind and Beauty Complex 7 Day Boxes, designed to work together to help you get the most out of every day. 


Getting started is as simple as 1-2-3!


First thing in the morning, before or after breakfast, mix Revive Active and Mastermind together in a glass of water for a zingy, orange flavoured drink to help kickstart the day. 


Later in the afternoon or evening, Beauty Complex can be taken with a glass of water after a meal for optimum absorption. 


This unique combination of super supplements provides a comprehensive blend of premium ingredients, scientifically formulated to contribute to -


✔ Energy
✔ Immune System
✔ Heart
✔ Brain
✔ Cognitive Function
✔ Mental Performance
With the inclusion of Beauty Complex, it also contains specific nutrients to support the 

✔ Skin
✔ Hair
✔ Nails 
All the ingredients combined supports you from the inside out and helps you to look and feel your very best.
Get Social with Us!
@reviveactive_uk Tag us in your posts on instagram for a chance to be featured!