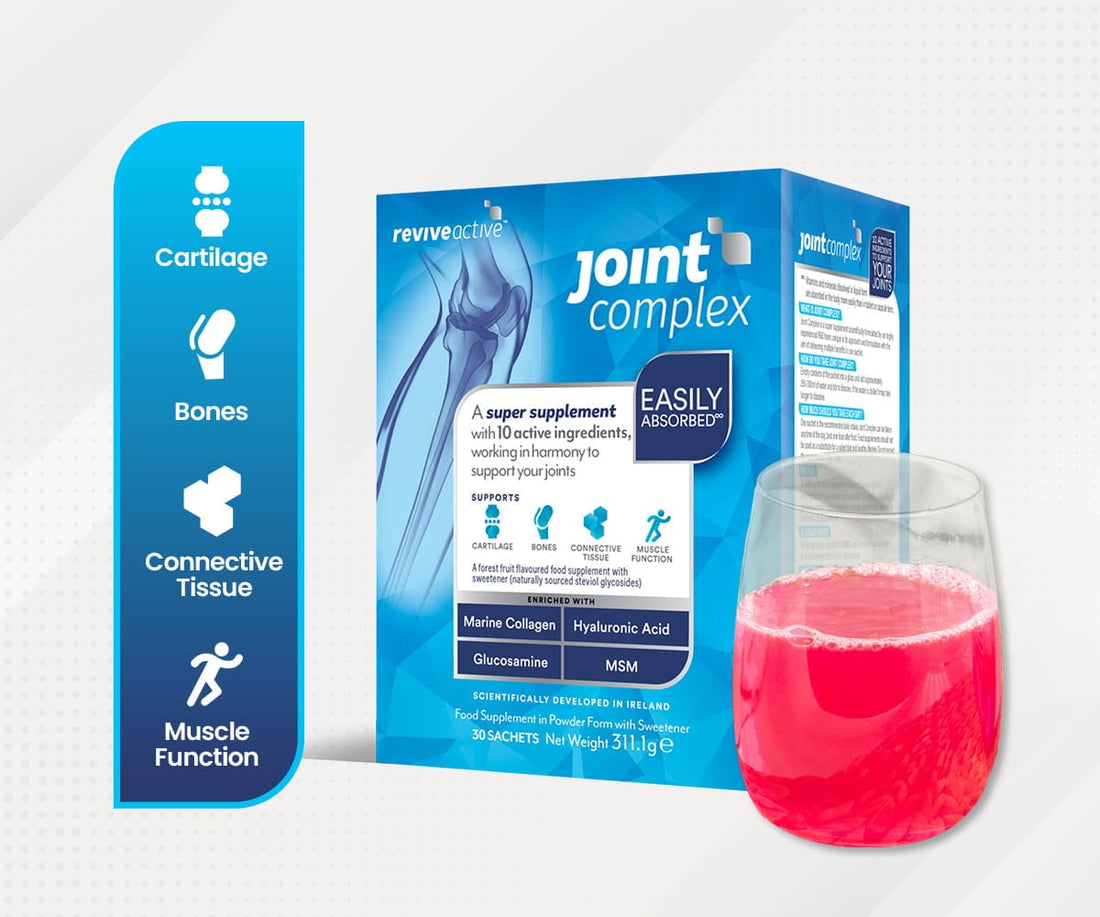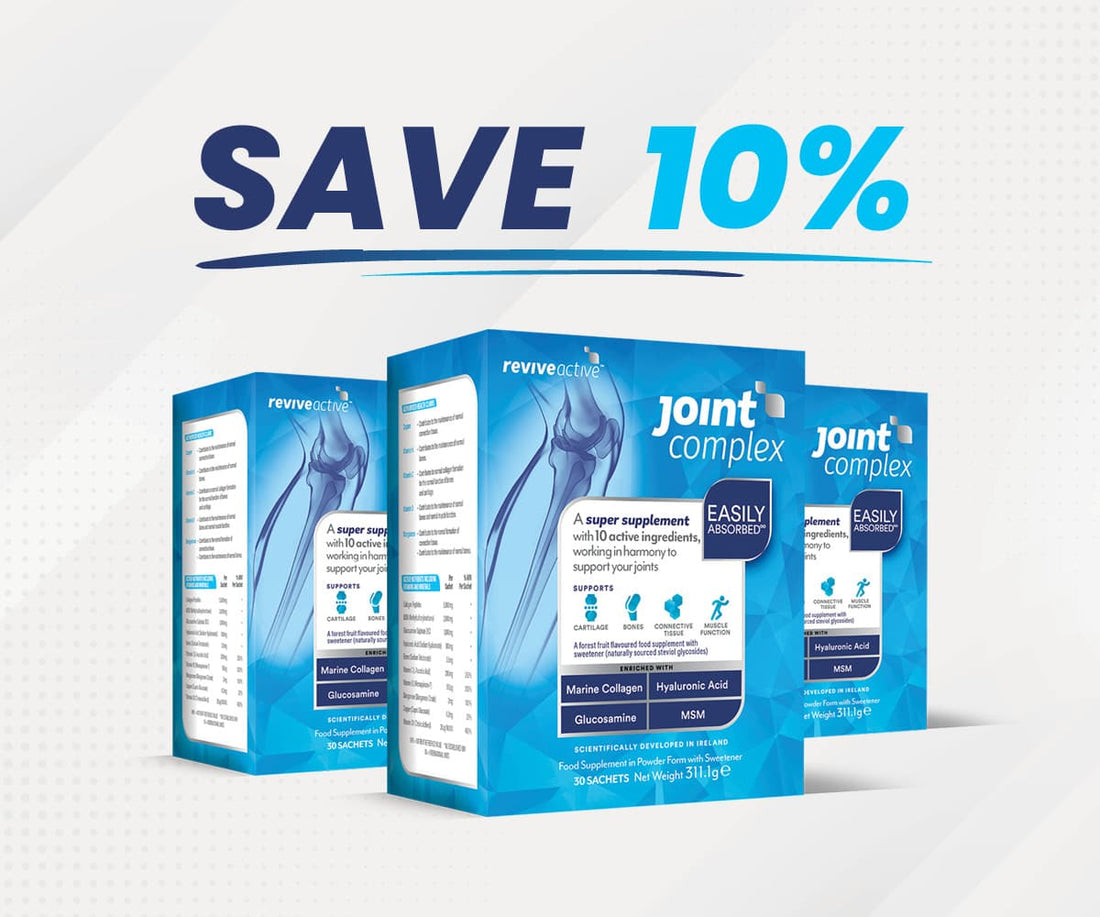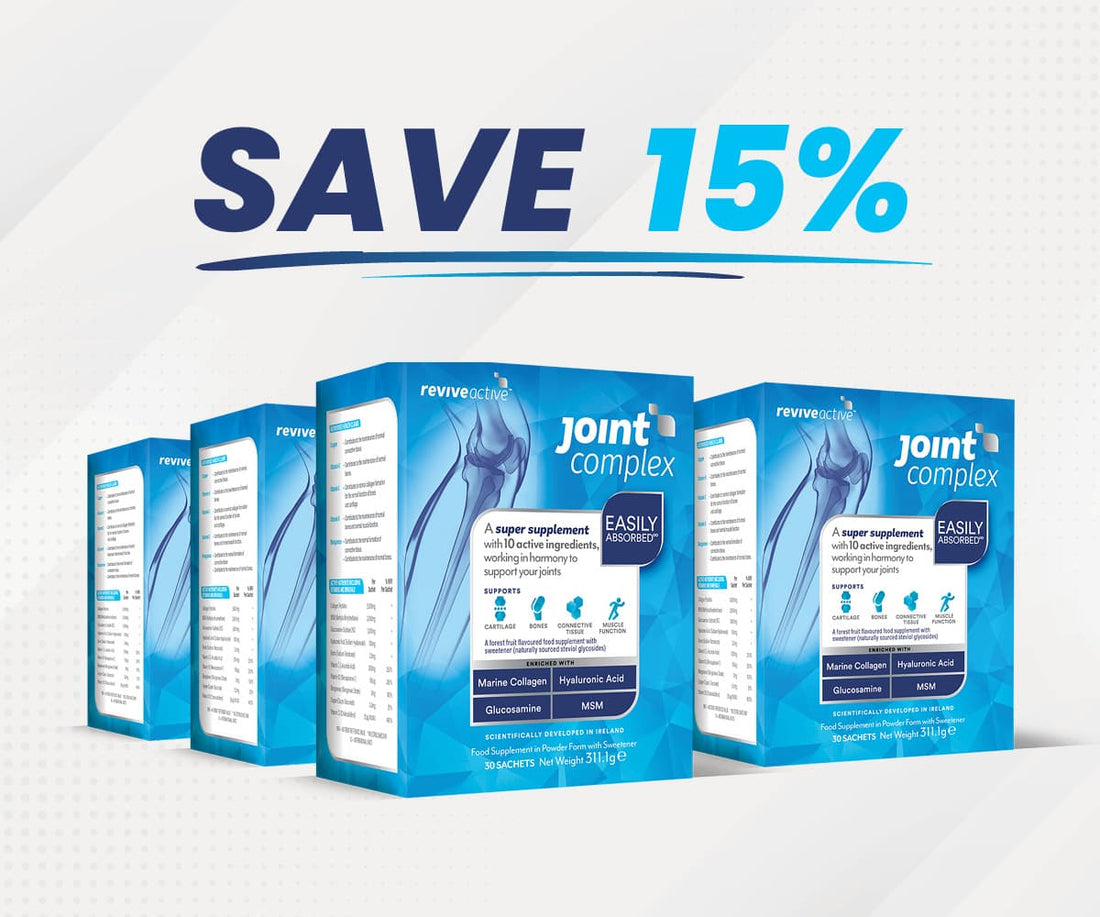 Suitable for Diabetics, Gluten Free and Halal Certified
Joint Complex is a super supplement with 10 active ingredients specifically formulated to support your joints all in one daily sachet.
Whether you're looking for Joint support, an athlete or sports enthusiast, living an active lifestyle – we've got your back!
Experience effective nutrient delivery and absorption with just one powdered sachet a day - simply add water and you're good to go!
10 Active ingredients including Marine Collagen, MSM, Glucosamine & Hyaluronic Acid. Walk, run, or hit the gym with confidence and step into a world of joint vitality!
Supports:
Cartilage
Bones
Connective Tissue
Muscle Function
The Power of One Sachet
Vitamin C, Marine Collagen, Glucosamine & Hyaluronic Acid
Copper, Manganese, Hyaluronic Acid
Vitamin K, C, D, Manganese, Marine Collagen
The Importance of Marine Collagen
Collagen is essential for providing the structure for our skin, bones, tendons and cartilage. When it comes to joint care, Collagen acts as a cushion by forming the tissue at each end of the bones and enabling them to move freely next to one another.
Marine Collagen is a form of Collagen derived from fish scales. It is well known for its high degree of collagen content and for being more easily absorbed by the body.
Learn More
How to Take Joint Complex
Tear open sachet  
Pour into glass  
Add 250-300ml water
Stir it up and drink  
Alternatively add the sachet to a morning smoothie or juice 
Take at any time of day, after food
Shop Now
What's Inside ?
Joint Complex Ingredients
Hear From Our Super Fans
Michael
"Joint Complex covers me for the physical demands on the farm and covers me for all the sport"
Play Video
Customers speak for themselves!
Verified customer
"Absolutely superb! Noticed a difference almost immediately. Can't recommend it highly enough!"
Verified customer
"I take this every evening. Apart from tasting really nice the combination of ingredients make me feel good."
Verified customer
"I love this product. Have been using it for a few years. I like to run and this product helps my joints. It has a pleasant berry taste."
Verified customer
"Since starting joint complex 3 months ago I am able to freely walk up and down stairs without wincing. Have recommended it to friends."
FAQs
Frequently asked questions
Joint Complex is a super supplement scientifically formulated by our highly experienced R&D team, unique in its approach and formulation with the aim of delivering multiple benefits in one sachet.
Empty contents of the sachet into a glass and add 250–300ml water or your favourite juice and stir to dissolve. If the water is chilled it may take longer to dissolve.
One sachet is the recommended daily intake. Joint Complex can be taken anytime of the day, best one hour after food. For optimum results, take daily for three months. Food supplements should not be used as a substitute for a varied and healthy lifestyle. Do not exceed the recommended daily intake.
Yes, Joint Complex is suitable for Diabetics
Get Social with Us!
@reviveactive_uk Tag us in your posts on instagram for a chance to be featured!