What is Zest Active?
Zest Active is a super supplement of 25 scientifically formulated ingredients clinically proven to strengthen the immune system, boost energy and improve mental well-being. Trusted by athletes, fitness enthusiasts, the health conscious and people with busy lifestyles, you can count on Zest Active to help you unlock your potential every day. Each handy stick sachet contains Beta Glucans, L Lysine, L Theanine and Taurine for energy and immune support, and enhanced mental clarity and muscle function.
Key Ingredients that Support Your Immune System
INGREDIENTS
Vitamin D
Vitamin D is a fat-soluble vitamin and the richest source of Vitamin D comes from direct sunlight, so it is often recommended that we supplement our diet, especially during the winter months. Vitamin D plays an active role in supporting the normal function of the immune system and the maintenance of normal bones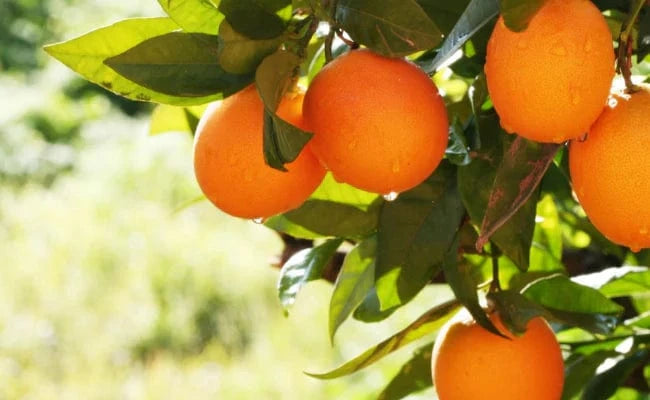 INGREDIENTS
Vitamin C
Vitamin C is a water-soluble vitamin and we do not have the ability to create it in the body. It is a vital antioxidant, and it plays many roles in the body including its contribution to the normal function of the immune system and the reduction of tiredness and fatigue
INGREDIENTS
Vitamin B12
Vitamin B12, also known as Cobalamin, plays a key role in making DNA and helps keep nerve cells and red blood cells healthy.
INGREDIENTS
Copper
Copper is an essential trace mineral. It is found in all body tissues and plays a key role in making red blood cells and maintaining the immune system.
INGREDIENTS
Folate
Folate is one of the 8 B vitamins and is essential for good health. Our bodies need folate to make DNA and other genetic material.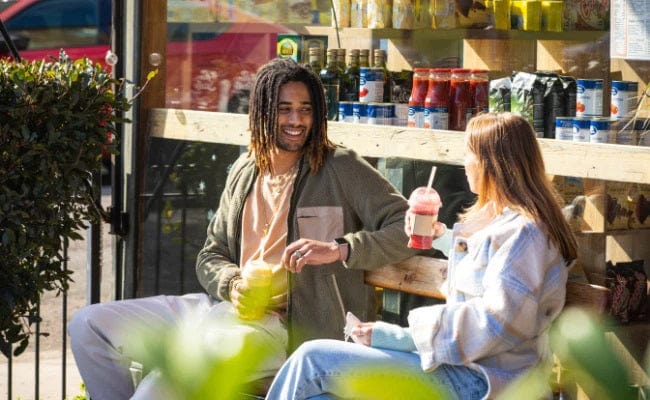 INGREDIENTS
Wellmune®
Wellmune® is clinically proven to protect immune and physical health.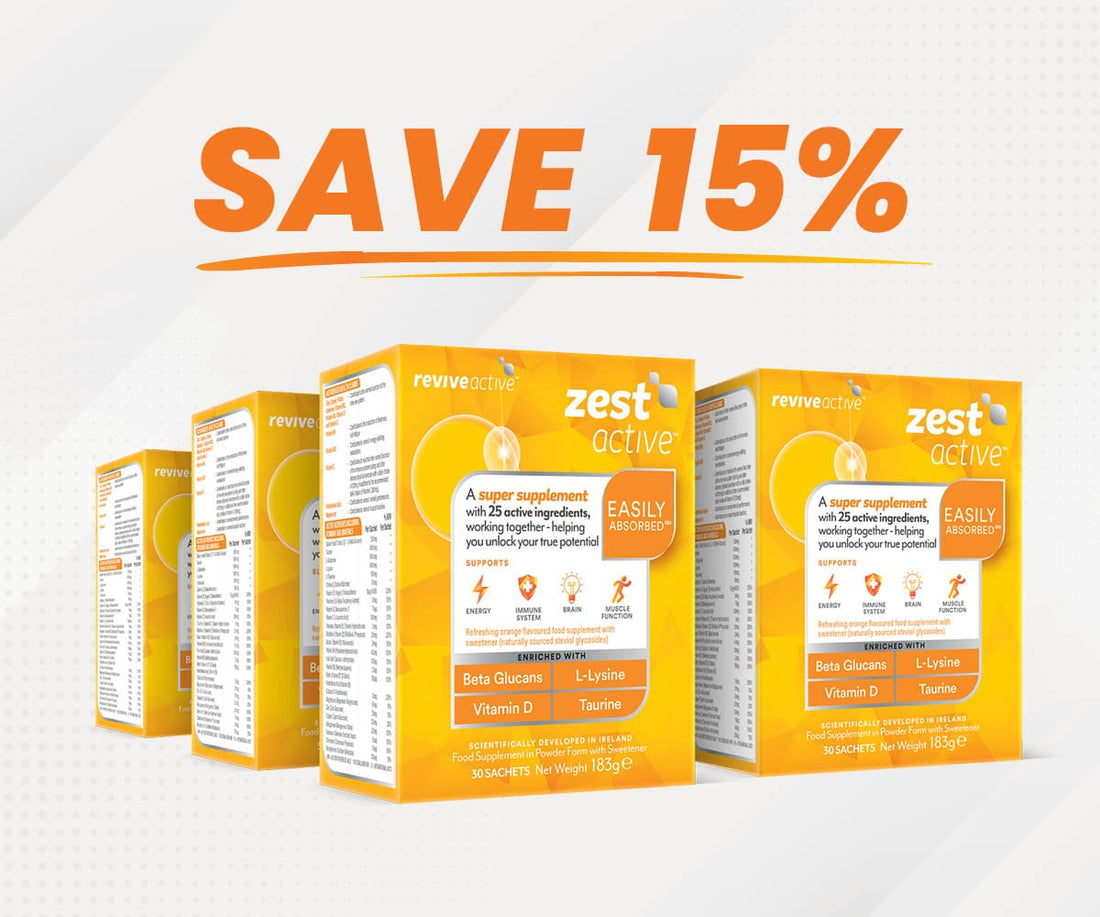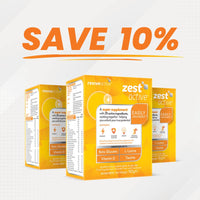 One-time purchase
Subscribe & Save
Customers Speak for Themselves!
Verified customer
"I've been using revive active's 'Zest Active' on and off for nearly 3 years. I don't think any other multivitamin works quite like it. I've notice little differences when I take it but huge difference in my physical and mental performance when I stop taking it."
Verified customer
"I'm taking Active Zest for one month now. The taste is really nice for a vitamin & I have noticed it has really helped my busy lifestyle. I will definitely be repurchasing this product."
Verified customer
"I am taking Revive Zest Active for over three years now. I could not be without it, it really puts a pep in my step each morning. It's an intrinsic part of my morning routine. I love it."
Verified customer
"Great product, dont like to take vitamins in pill form so this works well for me, tastes great and have noticed improvement in my energy levels."
Partners & Sponsorships
SPORTS
Informed Sport Approved
Three of our supplements are Informed Sports Certified products, which means they are suitable for professional and elite athletes.
SPORTS
Sheffield United
As official Immunity Support Partner to Sheffield United Professional Football Club, we are delighted to support such a fantastic organisation. The first team players take health food supplement Zest Active for energy, immune support, recovery and cognitive function as part of their food first approach to reduce the amount of training sessions missed.
SPORTS
John Egan
We are immensely proud to have Irish international footballer and Sheffield United star John Egan as brand Ambassador for Zest Active. Nutrition is a big part of John's routine, and he is an ideal advocate
of Zest Active, its benefits and results.
FAQs
Frequently Asked Questions
Zest Active is a super supplement containing 25 active ingredients including Beta Glucans which has proven in peer-reviewed clinical studies to reduce the symptoms of cold and flu, supercharge energy levels and enhance mental well-being. It is scientifically formulated with vitamins, minerals, amino acids and Beta Glucans to support energy, the brain, muscle function and the immune system.
Zest Active is ideal for professional sports people and athletes, fitness enthusiasts, people conscious about their health and nutrition, and people with busy lifestyles.
Zest Active works by supplementing the body with the essential, clinically proven nutrients in addition to a healthy and balanced diet. It is provided in a powdered formula for effective nutrient delivery and absorption.
We recommend that you take one sachet per day mixed with 250–300 ml water first thing in the morning on an empty stomach.
Zest Active is a super supplement in a different class to multi vitamins. With its unique, scientific blend of vitamins and minerals combined with other nutrients such as Beta Glucans, Taurine, L-Theanine and L-Lysine, and powdered formula that supports more effective nutrient delivery, Zest Active delivers an invigorating energy and immune boost.
Zest Active has a natural zesty orange flavour and contains the natural sweetener steviol glycosides.
Yes, there is no problem in taking Zest Active if you have diabetes. But as diabetes is a medical condition, a person should consult with a qualified health professional first before taking any food supplement.
Get Social with Us!
@reviveactive_uk Tag us in your posts on instagram for a chance to be featured!