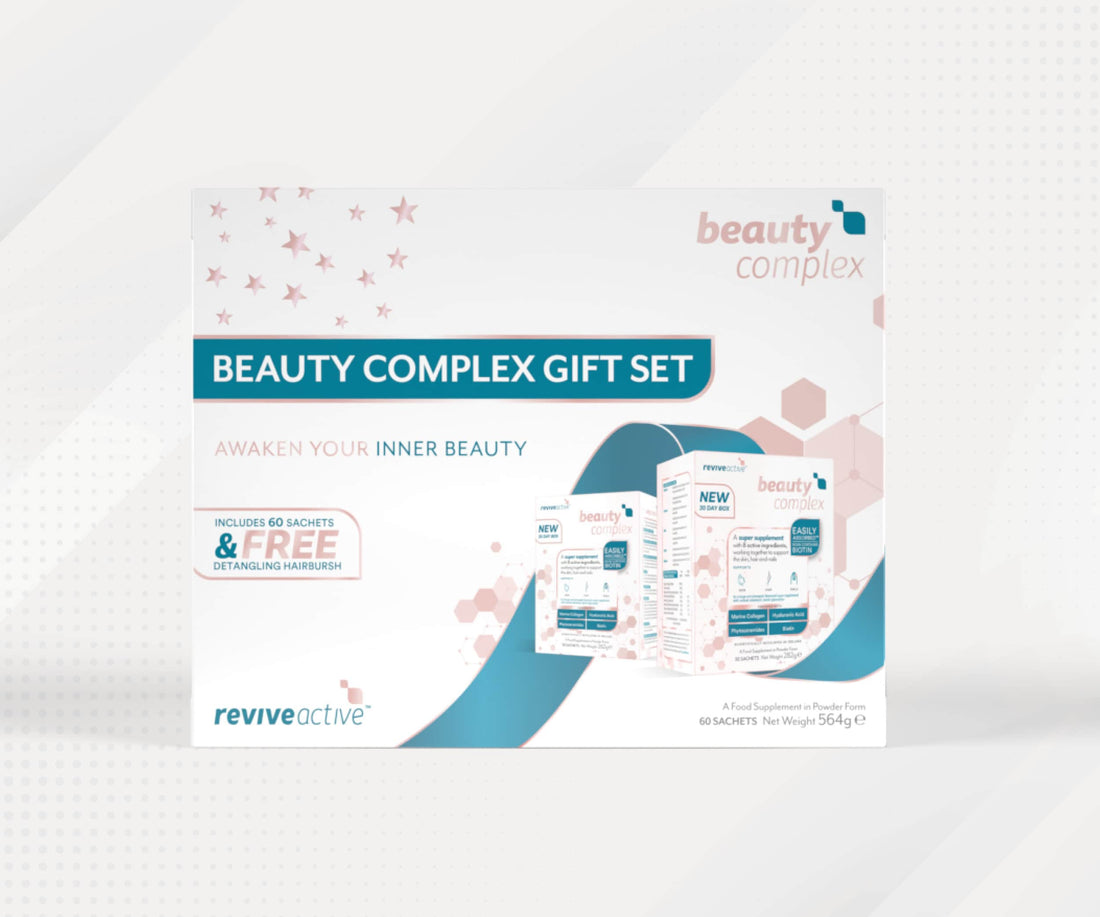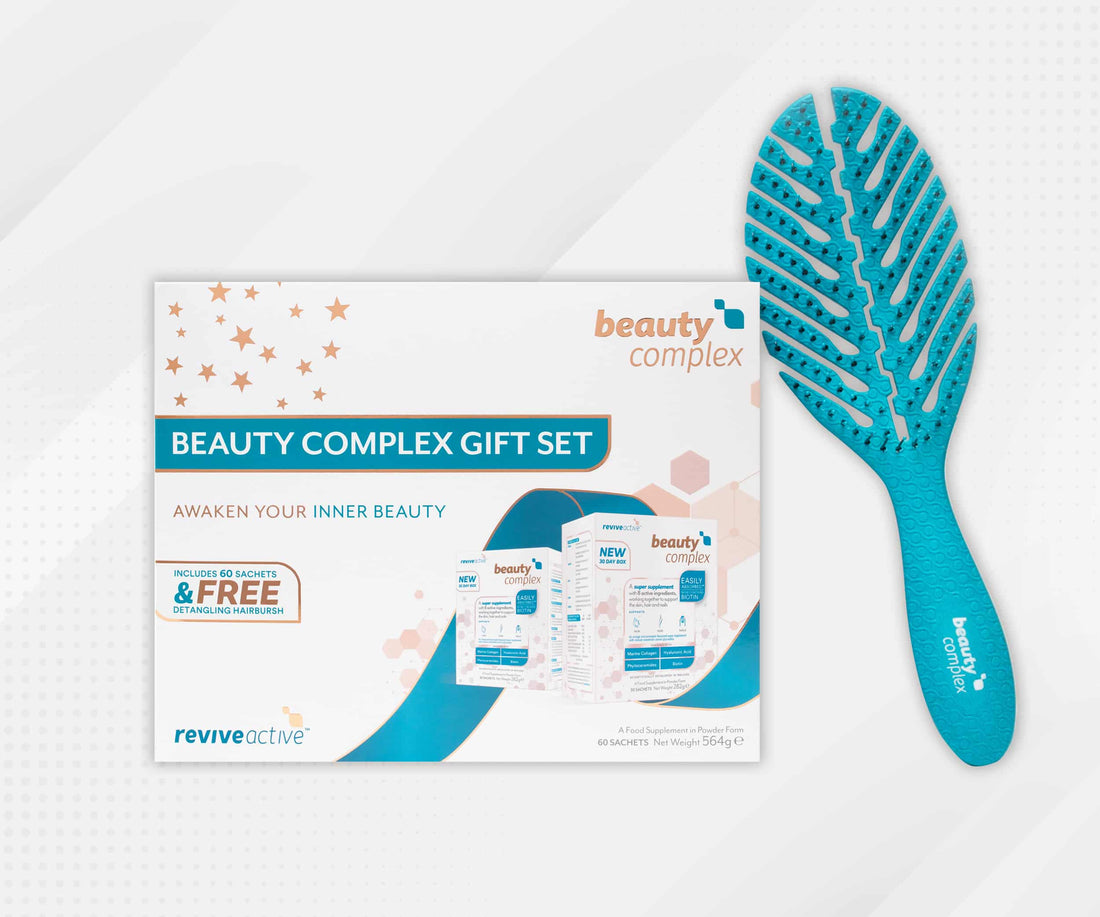 Suitable for Diabetics, Gluten Free and Halal Certified
▶ Contains two boxes of Beauty Complex, totaling 60 sachets plus a FREE Biodegradable Detangling Hairbrush
▶ The Biodegradable Detangling Hairbrush has thin flexible bristles that safely untangle wet or dhair, minimising split ends and breakage
Beauty Complex is more than just a collagen supplement, it's a super supplement with 8 active ingredients working together to transform the hair, skin and nails.
Beauty Complex was designed by experts to compensate for declining Collagen, Ceramides and Hyaluronic Acid in the body. Perfect for those looking to upgrade their beauty game and support their hair , skin and nails from within.
Experience the ease of a single powdered sachet solution, ensuring optimal nutrient delivery and absorption, simply add water!
With a unique blend of ingredients including Marine Collagen, Hyaluronic Acid, Phytoceramides, Biotin , Beauty Complex encompasses all the essentials for achieving gorgeous hair, skin and nails.
Glowing Skin
Nourished Hair
Manicure ready Nails
Healthy Gums and Teeth
The Power of One Sachet
Marine Collagen, Phytoceramides, Hyaluronic Acid, Vitamin C, Biotin, Copper
Marine Collagen, Biotin, Selenium, Copper
Marine Collagen, Selenium
The Importance of Marine Collagen
The magic ingredient used in Beauty Complex is Type 1 Marine Collagen, known as collagen peptides. It is derived from a 100% natural source containing more than 97% protein and are the same as the collagen found in our skin and bones.
Type 1 collagen is widely known as the most abundant form of collagen in our skin. The most bioavailable form of collagen for our skin, hair and nails is Marine Collagen derived from fish and many competitor collagen supplements contain bovine and porcine collagen sources, and these animal-derived forms of collagen are not as well absorbed, and they are not so well used by the skin.
Learn More
How to Take Beauty Complex
Tear open sachet  
Pour into glass  
Add 250-300ml water
Stir it up and drink  
Alternatively add the sachet to a morning smoothie or juice 
Take at any time of day, after food
Shop Now
What's Inside ?
Beauty Complex Ingredients
Customers speak for themselves!
Verified customer
"Absolutely love this product I can see an improvement in just over a week in my skin and hair. Highly recommend."
Verified customer
"I've been taking beauty complex for around 3 months and have noticed a very good change in the length, body and all around condition of my hair. Even my hairdresser has noticed how healthy my hair is feeling."
Verified customer
"It's incredible the change in my hair and nails. Both are growing stronger and more quickly. My skin is glowing and cheeks plumper. I highly recommend this product."
Verified customer
"Have been taking this supplement for 2 months now and my skin, hair and nails are sooo different. Nourished from within! Hardly any hormonal spots to be seen!! Excellent product definitely recommend."
Verified customer
"I have been taking Revive Zest Active the past few weeks now and it is amazing. I feel so much more full of energy in the morning! Great way to start the day and also before my run."
Verified customer
"I wouldnt be able to start my day without zest active. I have a new level of energy. As I'm a busy mam of 3 i have the energy i need for running around all day."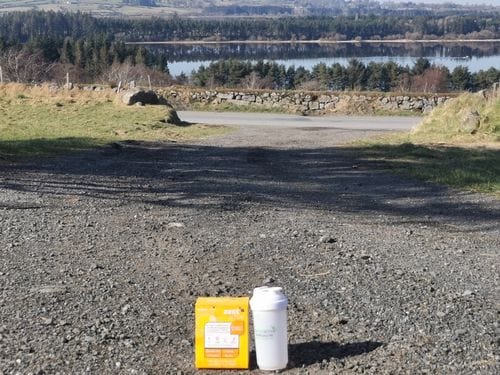 Verified customer
"I absolutely love starting my day with this product. Such a lovely flavour and a great way to get my vitamins. Make me feel happy inside and out 😃!
Verified customer
"I've been using revive active's 'Zest Active' on and off for nearly 3 years. I don't think any other multivitamin works quite like it. I've notice little differences when I take it but huge difference in my physical and mental performance when I stop taking it."
FAQs
Frequently asked questions
Beauty Complex is a unique, comprehensive formulation of key, anti-ageing nutrients formulated to support more radiant skin, stronger hair and nails, and healthy gums and teeth. Each powdered sachet contains powerful anti-ageing ingredients including Hyaluronic Acid, Biotin, Phytoceramides, antioxidants and Type 1 Hydrolysed Marine Collagen Peptides which is clinically proven to reduce the visible signs of ageing.
People over 18 who want support their skin, hair and nails from the inside out.
Beauty Complex should be taken once daily in 250-300ml of water or juice. Mix to dissolve powder and drink. It can be taken at any time of the day, ideally after food. It is recommended Beauty Complex is taken daily for a minimum of 8-9 weeks for visible results.
Beauty Complex is a scientifically formulated super supplement with 8 active ingredients designed to enhance skin elasticity, tone and hydration, while promoting lustrous hair, stronger nails and healthy teeth and gums. It was designed by experts to compensate for the loss of Collagen, Hyaluronic Acid and Ceramides during the ageing process, as well as antioxidants that help fight against free-radical damage, all delivered in the most bioavailable, easily digestible powdered format, Beauty Complex is an unmatched formula that helps to delay the visible signs of ageing and promote a more youthful looking appearance.
Beauty Complex is not suitable for individuals with a fish allergy as it contains Marine Collagen.
Yes, Beauty Complex can be taken alongside other Revive Active products. Please follow the individual product instructions on when and how to take, which are printed on the packaging
Get Social with Us!
@reviveactive_uk Tag us in your posts on instagram for a chance to be featured!