Suitable for Diabetics, Vegetarian diets, Gluten Free and Halal Certified.
Meno Active is a menopause super supplement with a scientifically formulated blend of 31 active ingredients, which consists of  12 Vitamins, 7 Minerals, 4 Plant extracts, 4 Digestive Enzymes, 3 strains of Live friendly bacteria and 350mg of Omega 3 DHA.
Designed to support women throughout their menopausal journey, whether in perimenopause, menopause or postmenopause.
Experience the perfect combination of convenience and taste with Meno Active. Our innovative formula is conveniently packaged in a sachet and capsule duo, ensuring optimal nutrient delivery and a delightful  citrus flavour. Simply mix one sachet with 250-300ml of water and take the accompanying capsule for comprehensive menopausal support.
Meno Active is a comprehensive blend of ingredients to support hormonal activity, brain function, nervous system, energy levels and more. Includes Omega 3 DHA, Soya Isoflavones, Sage and Ashwagandha.
Supports:
Hormonal Activity
Energy Levels
Brain Function
Nervous System
A Powerful Dual Delivery System
Magnesium, Iodine, Thiamine, Biotin, Copper
Pantothenic Acid , Vitamin B6
12 ingredients to support the brain including Omega 3 DHA
10 ingredients to that support the nervous system including Iodine, Niacin, Riboflavin and Vitamin C
6 ingredients to support normal function of the bones and cartilage
450mg Ashwagandha, 135mg Soya Isoflavones, 100mg of Green Tea & 100mg Sage
Soya Isoflavones to support your Menopause journey
Soya Isoflavones are a family of naturally occurring chemicals found in soya beans. They are natural phytoestrogens which can help with hot flashes caused by Menopause and because of this, they are commonly found in supplements to support the menopause.
What sets our product apart from others is that within each sachet we have 135mg of fermented soya bean extract of which 54mg is Genistein.
Of all the various forms of Isoflavones on the market Genistein is one of the best known and researched and that is why it is included in Meno Active over any other lesser known or researched Isoflavone.
Learn More
How to Take Meno Active
Tear open sachet
Pour into glass
Add 250-300ml water or juice to activate the powder
Stir it up and drink along with the daily capsule
Due to the potency, we advise that is is best taken with food
Shop Now
What's Inside ?
Meno Active Ingredients
Pantothenic Acid (Vitamin B5)
Customers speak for themselves!
Verified customer
"So glad I started taking meno active. It has definitely helped my hormones . I am feeling much better in myself the last few months."
Verified customer
"I'm 56 and this is first time I've taken anything since going through menopause... sorry I didn't find this product sooner thank you for saving me...I also take joint review which is fab too 😊"
Verified customer
"Meno Active has helped support my nervous system. Overall, I just feel great, my energy levels are well supported, I'm really active and I feel really well in myself. I'm a committed follower now and will include Meno Active by Revive Active as part of my daily routine to maintain my current wellbeing."
Verified customer
"I have been taking Meno Active for the past 4 months and I could not be happier. I'm 42, already menopausal and I am finding it tough! After a couple of weeks taking Meno Active, I feel my energy is well supported now more than I have felt for a long while. I cannot imagine going through these next few years without the help of Meno Active."
Verified customer
"I have been taking Revive Zest Active the past few weeks now and it is amazing. I feel so much more full of energy in the morning! Great way to start the day and also before my run."
Verified customer
"I wouldnt be able to start my day without zest active. I have a new level of energy. As I'm a busy mam of 3 i have the energy i need for running around all day."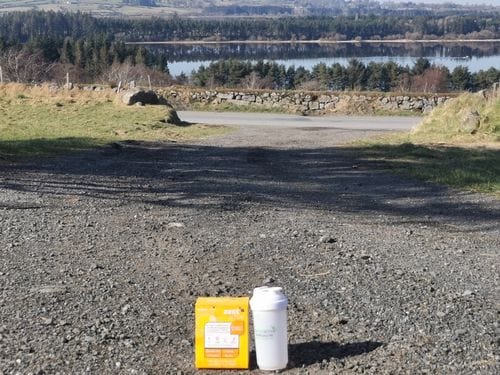 Verified customer
"I absolutely love starting my day with this product. Such a lovely flavour and a great way to get my vitamins. Make me feel happy inside and out 😃!
Verified customer
"I've been using revive active's 'Zest Active' on and off for nearly 3 years. I don't think any other multivitamin works quite like it. I've notice little differences when I take it but huge difference in my physical and mental performance when I stop taking it."
FAQs
Frequently asked questions
Meno Active from Revive Active is a Super Supplement containing a scientifically formulated blend of premium ingredients for women to take during their menopausal journey.
Meno Active contains 31 ingredients to support women during this period of their life. Using a combination of ingredients that include 4 plant extracts, 4 digestive enzymes, 3 strains of live friendly bacteria, 350mgs Omega 3 DHA plus a combination of 12 Vitamins and 7 Minerals.
Meno Active is for women in late perimenopause, menopause and post menopause
It is suitable for vegetarians but not vegans, as the DHA powder contains milk.
Yes, Meno Active is suitable for Diabetics
We recommend that you take one sachet and one capsule, once a day, preferably before or after food. Empty the contents of one sachet into a glass and add 250 – 300 ml of water (increase quantity of water to suit taste) and stir to dissolve.
Each capsule contains 3 plant extracts, Ashwagandha, Soya Isoflavone and Sage which can sometimes taste a little bitter in a powdered format. That's why they are best swallowed in a capsule with the sachet drink or a glass of water.
Officially a woman isn't in menopause until she hasn't had a period for one year. Women experience the menopause between the ages of 45 and 55, with the average age being 51. However, every woman is different and for some it can occur before the age of 40, this is called primary ovarian insufficiency. Other women may experience early on-set due to surgery such as a hysterectomy, while other women may continue to have menstrual cycles well into their late fifties.
Officially the menopause lasts only one day, this day occurs once a woman has gone 12 months without a period. Once this day has passed women are termed postmenopausal for the rest of their lives.
Meno Active has been formulated specifically for menopausal women, the comprehensive super supplement contains 19 vitamins and minerals, 4 digestive enzymes, 3 different strains of live friendly bacteria, 4 plants extracts and 350 mg Omega 3 DHA and this combination of premium ingredients support hormonal activity, brain function, the nervous system and energy.
Revive Active Super Supplement is formulated for men and women aged 35+, containing 26 active ingredients including CoQ10 and L- Arginine. It supports the heart, immune system and energy levels and reduces fatigue. It is designed to help you put back in, what life takes out
All the other products in the range can be taken on the same day but not at the same time. For example, take one in the morning and wait until lunchtime or mid-afternoon before taking the second product. The one exception to this rule is Mastermind which can be taken with Meno Active, in the same glass with water.
In consultation with your qualified healthcare professional Meno Active may be taken in conjunction with HRT.
As there is a potent concentration of ingredients in the sachet and capsule it may take your body some time to adjust. If this is the case we recommend taking a ½ sachet plus capsule for a few days while your body adapts. Another option is to add the sachet to a smoothie and take the smoothie along with the capsule.
Get Social with Us!
@reviveactive_uk Tag us in your posts on instagram for a chance to be featured!