What is Joint Complex?
Joint Complex is a super supplement with 10 active ingredients formulated for adults (aged 18 and over). Made in a unique forest fruit flavour using a natural sweetener, steviol glycosides, with ingredients including Peptan® Collagen Peptides (marine source), Hyaluronic Acid, Glucosamine, and MSM. 
Key Ingredients that Support Your Joint Health
INGREDIENTS
What Hyaluronic Acid?
Hyaluronic Acid is manufactured in the body naturally and is found in the skin, connective tissues and the eyes.

It is often promoted for anti-ageing but also plays a powerful role in lubricating and protecting the joints. Each Hyaluronic Acid molecule can hold up to one thousand times its own weight in water, making it a powerful nutrient for skin and joint health.
INGREDIENTS
What is Collagen?
Collagen is a key component of our joints, tendons and bones. Joint Cartilage is primarily made up of collagen fibers which
contribute to the structure and strength of our joints.

Collagen is equally important for bones, and it represents up to 90% of organic bone mass and provides the structural framework on which calcium and other minerals are anchored. As we age, our bodies naturally start to produce less collagen.
INGREDIENTS
What is MSM?
Methylsulfonylmethane is a natural source of sulphur that is found in the body. Sulphur is one of the body's vital nutrients and offers a range of preventative properties, from aiding detoxification to enhancing the body's production of antioxidants. Without Sulphur, many bodily functions cannot work properly.

MSM is considered one of the best forms of Sulphur and can be obtained from food sources as well as through supplementation. MSM is considered one of the best nutrients for muscle, joints, and bone support.
INGREDIENTS
What is Glucosamine?
Glucosamine is found naturally in the human body and plays a key role in helping to form tendons, ligaments, cartilage and the synovial fluid that surrounds and cushions the joints.

There are a number of forms of glucosamine and they are not all considered to be the same. One form of glucosamine - glucosamine sulfate – is often taken in supplement form and is present in Joint Complex.
INGREDIENTS
How the Ingredients Work in Synergy with One Another
Many of us may need support with our bones and joints.

Revive Active's Joint Complex Super Supplement has been specially designed by experts to deliver targeted support for joints.

Your joints need more than just vitamins to support their flexibility, lubrication and hydration.

Joint Complex contains 10 active ingredients including vitamins, minerals and amino acids that work in synergy to support cartilage, bones,
connective tissue and muscle function.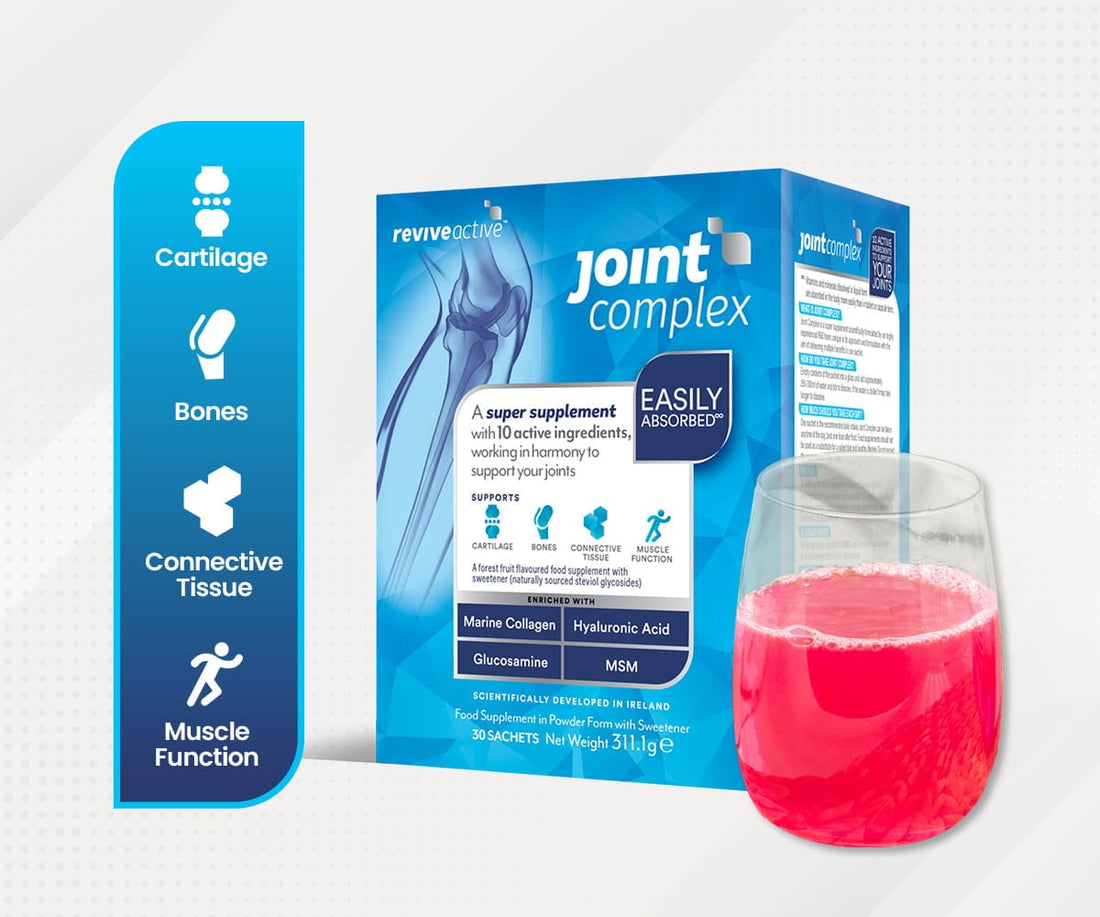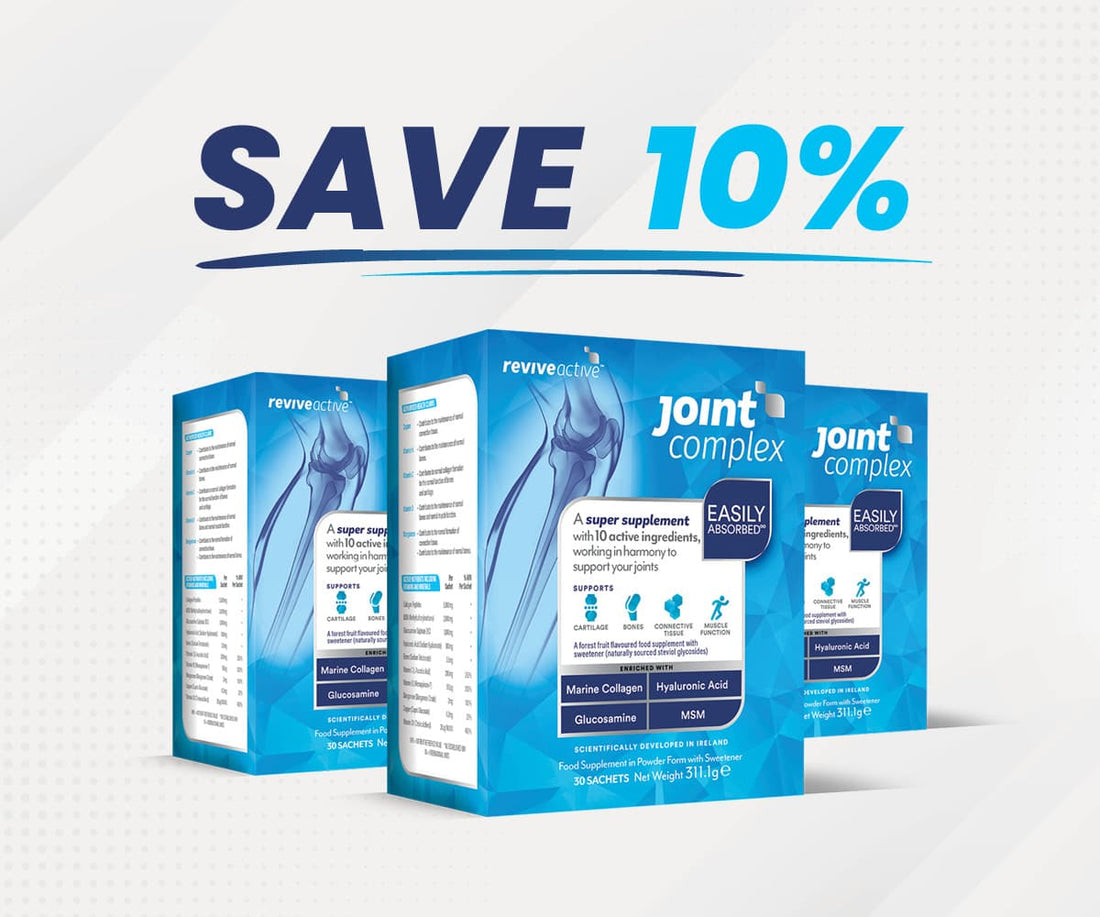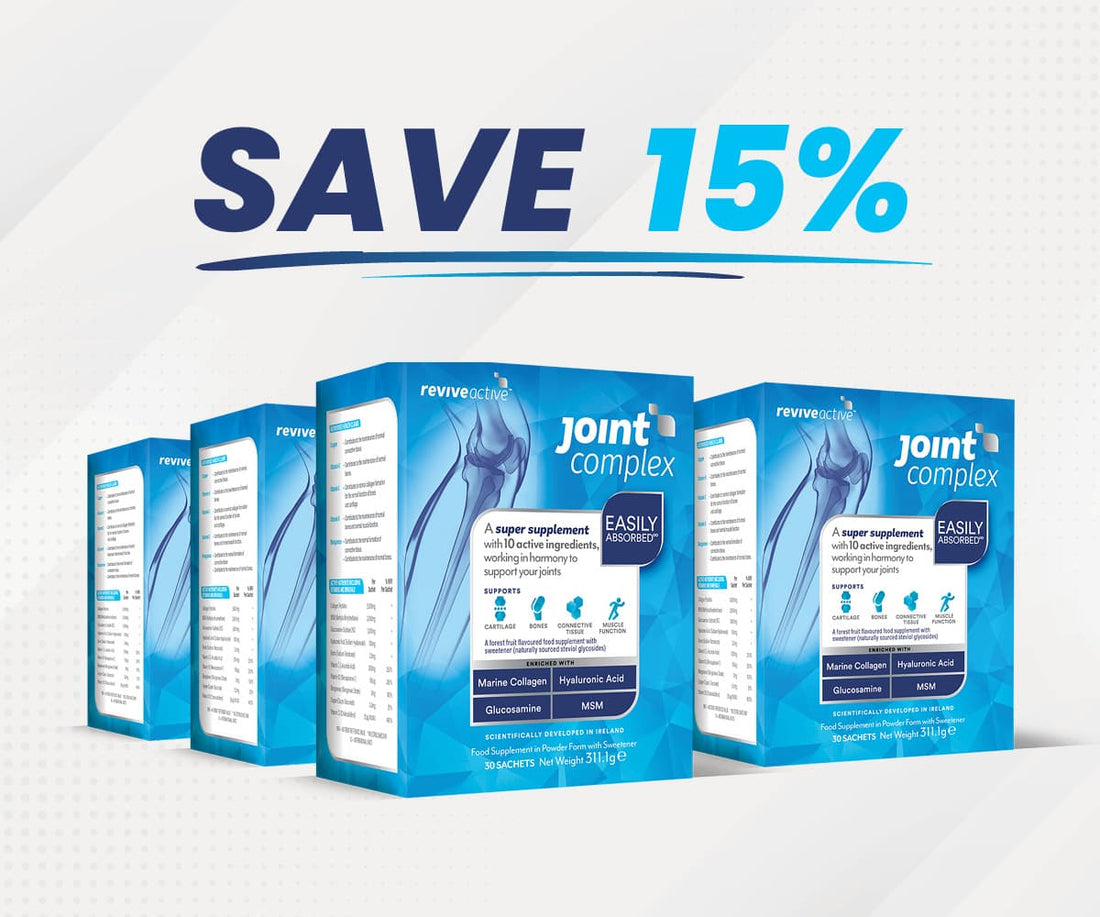 One-time purchase
Subscribe & Save
Customers Speak for Themselves!
Verified customer
"I love this product. Have been using it for a few years. I like to run and this product helps my joints. It has a pleasant berry taste."
Verified customer
"Since starting joint complex 3 months ago I am able to freely walk up and down stairs without wincing. Have recommended it to friends."
Verified customer
"I take this every evening. Apart from tasting really nice the combination of ingredients make me feel good."
Verified customer
"Absolutely superb! Noticed a difference almost immediately. Can't recommend it highly enough!"
FAQs
Frequently Asked Questions
Joint Complex is a superior supplement scientifically formulated by our highly experienced R&D team, unique in its approach and formulation with the aim of delivering multiple benefits in one sachet.
Empty contents of the sachet into a glass and add 250–300mls water or your favourite juice and stir to dissolve. If the water is chilled it may take longer to dissolve.
One sachet is the recommended daily intake. Joint Complex can be taken anytime of the day, best one hour after food. For optimum results, take daily for three months. Food supplements should not be used as a substitute for a varied and healthy lifestyle. Do not exceed the recommended daily intake.
Peptan® Collagen Peptides are bioactive collagen peptides that have been specifically developed to deliver functional properties and they are hydrolysed which make them easily digestible, helping with absorption.
Joint Complex and Revive Active can be taken together, it is best to take Revive Active in the morning before food and Joint Complex later in the day after food.
Elite athletes can safely take our product as each batch has been tested against WADA prohibited substance list and found to contain no prohibited substances. All testing is carried out independently of Revive Active
Joint Complex supports your joints through the maintenance of normal connective tissue, the maintenance of normal bones and normal collagen formation for the normal function of bones and cartilage.
Get Social with Us!
@reviveactive_uk Tag us in your posts on instagram for a chance to be featured!