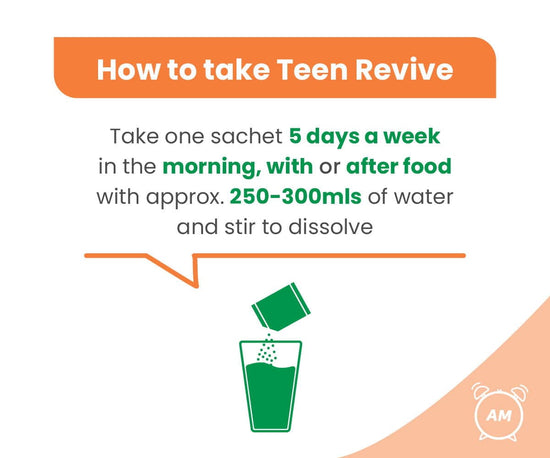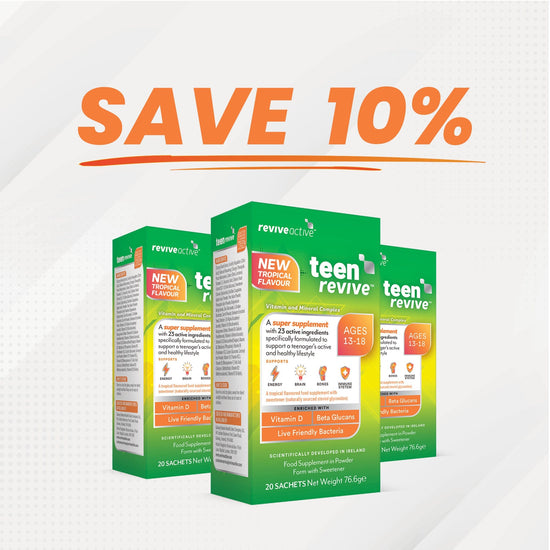 Suitable for Diabetics, Vegan & Vegetarian diets, Gluten Free and Halal Certified
Teen Revive Tropical Flavour is a super supplement with 23 active ingredients including 12 vitamins, 6 minerals, 4 fruit & vegetable powders, Beta Glucans, Live Friendly Bacteria, Fibre and Choline to support a teen's active and healthy lifestyle all in one daily sachet.
As teenagers lead increasingly active lifestyles their level of nutrient requirements increase. Teen Revive was created to support busy teenagers aged 13-18 years. Give your teenager the essential nutrients they need to thrive during this crucial stage of growth and development.
Teen Revive is a superior blend of high-quality ingredients formulated to fuel and support a teenagers active and healthy lifestyle. A super supplement with 23 active ingredients for all-rounded support including heart health, brain, bones and immunity support. Multiple benefits, one sachet.
Each morning, add one sachet to 250-300ml of water and stir to dissolve. Our delicious new tropical flavour allows you to add to water and grab and go each morning. 
Supports:
Energy 

Brain Function 
Bones
Boosts Immune System
The Power of One Sachet
Vitamin C, B6, Thiamine, Riboflavin, Pantothenic Acid, Niacin, Manganese, Folic Acid, Copper & Biotin
Folic Acid, Niacin, Biotin, Pantothenic Acid, Thiamine, Vitamin B12, B6 & C
Manganese, Vitamin D, C, K & Zinc
Vitamin C, D, A & B6, Folic Acid, Zinc, Selenium
The Importance of Beta Glucans for Teenagers
A unique blend of 23 Ingredients chosen to fuel and support your teen's vibrant life, Teen Revive is enriched with Beta Glucans to support them from the inside out.  
Beta Glucans are a form of soluble dietary fibre. Found in the cell walls of plants, some yeasts, bacteria, fungi and algae that trigger an immune response as the body jumps to defend itself against foreign pathogens.  
They are considered to be immunomodulators, substances that boost immune function by improving the immune system's response to a threat. Juggling school, friends, sports, clubs and more – Teens lead a very busy lifestyle, keep their immune system in tip top shape with this little but fierce ingredient in Teen Revive.
Learn More
How to Take Teen Revive Tropical Flavour
Tear open sachet  
Pour into glass  
Add to 250-300ml of water
Stir it up and drink  
Alternatively add the sachet to a morning smoothie or juice 
Take 5 days a week, in the morning, with or after food
Shop Now
What's Inside ?
Teen Revive Ingredients
Pantothenic Acid (Vitamin B5)
Customers speak for themselves!
Verified customer
"Amazing noticed a difference in just a few days, brilliant"
Verified customer
"Fantastic, especially for fussy eaters, highly recommend."
Verified customer
"Brilliant product my two children are both happy to take"
Verified customer
"I see a good change in my son after two weeks taking Revive"
FAQs
Frequently asked questions
Teen Revive is formulated specifically for teenagers aged 13 to 18 years old; teens who have busy and active lifestyle.
Both products contain the same ingredients. However, as a child grows their level of nutrient requirements increase and because of this the quantity of some ingredients is greater in Teen Revive, than in Junior Revive.
We recommend to take one sachet a day, 5 days per week, mix with 250-300ml of water and stir to dissolve. 
Yes, Teen Revive is vegan & vegetarian friendly.
We are governed by the Food Safety Authority of Ireland (FSAI) and have to follow both Irish and European legislation and guidelines in relation to safe levels of vitamins and minerals. We abide by the European Union (EU) food law (Directive2002/46/EC) which sets out the legal requirements that must be complied with when a food supplement is placed on the EU market. We also follow the recently published guidance document by the FSAI – The safety of vitamins and minerals in food supplements – establishing tolerable upper levels and a risk assessment approach for products manufactured in Ireland, in addition to the European Food Safety Authority (EFSA) tolerable upper levels for vitamins and minerals.
Get Social with Us!
@reviveactive_uk Tag us in your posts on instagram for a chance to be featured!